What is Instagram?
Instagram is a visual platform that's used to share moments and to communicate a point of view to the world via photos and videos. It's owned by Facebook and it integrates very effectively with the Facebook advertising platform. Marketers can advertise on Instagram through Facebook to reach a young, mobile audience.
What's the best time and day to post on Instagram?
You may be wondering what the best days and times are to post on Instagram, particularly if you are an advertiser.
Various studies have tried to find a 'best' time on a 'best' day. Wednesday at 11am is generally suggested as the best day and time to post. However, you'll most likely be posting more often than once a week, so it's a good idea to look at a wider selection of 'good' times to post.
We recommend that you look at your account analytics and timezone. A sound approach is to use Instagram's Insights tool. If you have a business account, you'll automatically have access to this free analytics tool. You can use it to see on which days of the week – and which times – your followers are most active onInstagram. This data can give you a good understanding of the best times topost, based on your instagram users and followers.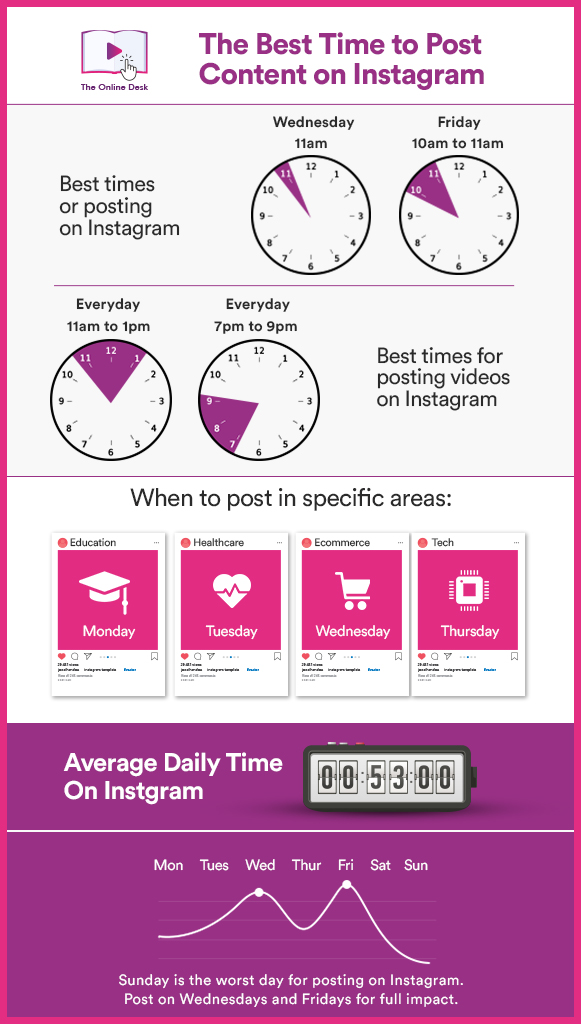 Key terms
You should be familiar with these key terms to use Instagram effectively:
Activity: Activity is a newsfeed-style feature, divided into 'Following' and 'You' sections, that keeps users up-to-date on recent activity from people they are following.
Search and Explore: With Search and Explore, content of interest can be discovered from accounts you don't yet follow.
Filter: Filters are photographic enhancements that can be applied to content before publishing.
Regram: Regramming is the act of sharing another's user-generated content, also known as 'UGC', on your own Instagram page.
Live: Live is a feature that allows users to share live video with their followers and friends on Instagram.
What are best practices for posting on Instagram?
Let's talk through some of the best practices for posting on Instagram:
Keep your captions short. You'll want to make sure that you're using them in a very concise manner to deliver your message.
Don't use more than three hashtags in your captions. Using more than that will detract from your brand message and come across as inauthentic and spammy.
The images you post should all have a strong focal point.
Use filters to change the mood of an image, which can potentially lead to more likes and comments.
Use photography that showcases your brand logo clearly in product imagery.
Post photos and videos that are visually appealing and beautiful, and tell a story in an unexpected way.
Use Instagram's sister apps, such as Layout and Boomerang, to create visual interest and show knowledge of the platform.
Use social influencers to promote your content and expand your reach.
Add emojis to your captions to demonstrate authenticity, as Instagram is a mobile-based platform and emojis are widely used.
Always include a call-to-action in your post, so that users know what to do with the information you're providing.
Keep your content and posting schedule consistent, as it gives your followers something to look forward to.
Using social influencers
You can use social media influencers to expand your Instagram audience, and to increase awareness of your account or brand. Indeed, Instagram is one of the most important channels for influencer marketing. Influencers are – as the name suggests – influential. Some have millions of followers. By collaborating with the right influencer, you can really expand your reach.
It's important to choose the influencers you work with carefully. They need to be credible, trustworthy, relevant, and authentic, and to have a vision and target audience that align with your own.
So reach out to any influencers you are interested in working with. You could ask them to take over your page for a set period of time, or to create content with a CTA to follow your own brand's account. These partnerships can be paid or free, depending on the type of relationship you have with them.